16+9 Things I learned as the head of marketing
One year after graduation.
One year as the Head of Marketing.
One year of speed learning.
Go to Management & Leadership or Marketing Learnings.
Background Story
In January 2011 I took over the marketing department of a fast growing IT company.
100 employees (we were 35 in 2006 when I was working for the company for the first time)
headquarters in Germany
marketing centralized
offices in 9 countries from Paris to Istanbul
the marketing-team consists of 8-12 members including (2-4) students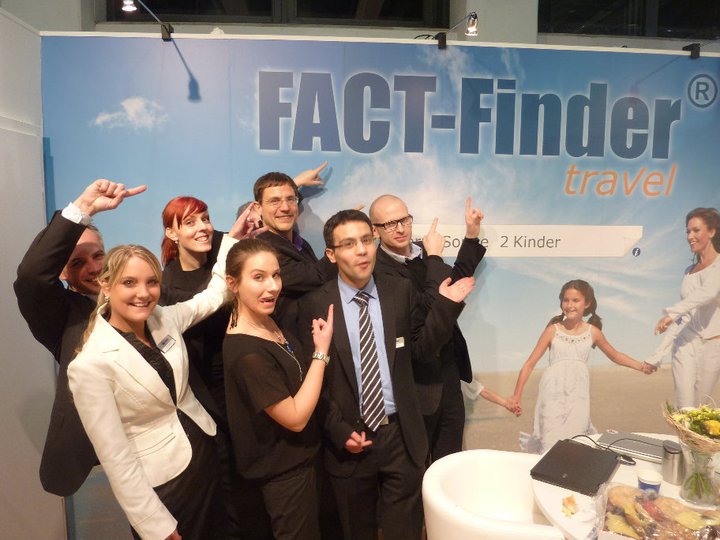 We launched our newest product FACT-Finder Travel on ITB-Berlin in March 2011. In October we started with the PR campaign in the US – speed is crucial.
Management & Leadership
1. Your team wants to achieve goals. If you transport the mission. The mission in January was that it is all about shipping. And so we shipped.
2. Change one big thing at a time radical and minor points in an itterative process. Change must be managed and communicated.
3. If you work with smart people like I do; don't try to be smarter. You are the decider but you are not smarter. Listen to advices. Kill excuses.
4. If problems occure be pro-active. Give feedback to every finished task. Your team members should know where they stand and learn how to improve every day.
5. Women have feelings – respect that.
6. Focus! – And learn to say NO. It's your job to withstand the pressure.
7. You can't controll everything but you are responsable.
8. Make a plan and get the commitment on your goals from other involved managers and the CEO. Be transparent to all stakeholders. If new goals occur during execution they cost enormous amounts of energy – that's why: plan ahead.
9. Safe your life. Otherwise you burnout quickly. Work-life-balance isn't bullshit.
10. Be honist. If you screwed up – say it. People that don't take responsibility for their actions cannot lead. I say again: People that don't take responsibility for their actions cannot lead.
11. Reward action. The only person who wants to ship is you? To encourage people to be action-driven you have to show your team how much you appreciate action. Celebrate shipping. Make shipping holy.
12. If you think something is the right to do even though it's unusual, radical or both – do it. It's probably the right decision.
13. Don't believe others just because they are older, longer in the company or more experienced. If you think their opinion is wrong don't doubt yourself to much. There is a fair chance you are right.
14. Be though and don't show fear. People smell weakness. Smile.
15. If you feel attacked don't fight back but try to see the situation from the view of the attacker.
16. No one gives you power. You take it. Trust must be earned.
The Omikron Headquarters in Pforzheim Germany – check the website for
jobs
.
Marketing Learnings
If you are more interested in the future of marketing read my article on THE WALL. Even Virgin Digital Group recommended this article – go read it.
1. People give a shit about your product & features. They want to see the outcome. Benefit, benefit, benefit…
2. Fix all brands with strategic papers first.
3. Draft the benefits clearly and make sure your colleagues in sales use them.
4. Your sales team knows alot about the customer – talk to them – make them talk. Even better: Talk with customers.
5. Stop taking ideas from your sales force. Ask them what problems they face and you and your team deliver solutions and plans. Otherwise you end up following tasks you received from others. This is not your job. Your job is to create a plan and EXECUTE.
6. Convince people with numbers.
7. Messure the right KPIs and learn from success and failure.
8. Talk business and learn the terminology of your customers – use it.
9. Your website must sell. Lead generation is vital. Visitors on the website must be captured as you spend a lot of money for traffic.
These are my own thoughts on leadership & marketing they don't represent Omikron's positions, strategies or opinions.
Wenn Ihnen der Beitrag gefallen hat, teilen Sie ihn gerne mit anderen.
Autor

Albert Pusch (Jahrgang 1983) ist Diplom Betriebswirt (FH) und PR-Referent. Er leitet seit 2013 das Marketing der Omikron Data Quality GmbH mit die Technologiemarke FACT-Finder, ist Autor zahlreicher Fachbeiträge zu Marketing Strategie und PR im digitalen Zeitalter. Außerdem ist er Mitgründer und Autor von socialmedia-blog.de.

Er studierte an der Hochschule Pforzheim Betriebswirtschaft mit dem Schwerpunkt Marketing-Kommunikation und Public Relations. Das Auslandssemester absolvierte er an der Universitas Gadjah Mada in Yogyakarta, Indonesien.

Mit 17 trat er in die Marine ein, diente als einer der jüngsten Unteroffiziere 4 Jahre auf zwei Fregatten und im Hauptquartier der deutschen Seestreitkräfte.

Social Media Whitepaper

Nutzen Sie Social Media in der strategischen Markenführung für Ihr Unternehmen. Sie erhalten die ungekürzte Originalfassung des Beitrags von Daniel Hoffmann und Albert Pusch aus dem Buch "Brand Evolution. Moderne Markenführung im digitalen Zeitalter".

Laden Sie das kostenlose Whitepaper auf socialmedia-blog.de herunter >>

---